"There is magic in stillness" 
Do you ever find the runway of modern life exhausting? If nodding along, you are not alone. Exhaustion is something easily ignored as part of the parcel of life, though if not careful it can quickly develop into burnout. A state of mental and physical exhaustion that zaps the joy out of your day. The chronic condition associated with anxiety and depression is on the rise with one study showing figures up 52% from January 2020. You may be asking why? And it is important you do. Looking at the causes of burn-out is the best place to start in becoming aware of the symptoms and how to manage them.
Why do we experience burnout?
Today's world encourages us to go faster, reach higher, earn more, be better than yesterday. From zoom meetings, parenting and being constantly tied to the phone it can feel impossible to take our foot off the pedal. Stress has somehow become synonymous with success, undoing that relationship is the key to avoiding burnout. Unrelenting stress can spiral out of control. While we all have the odd- day we feel like quitting our jobs and booking a one-way ticket to Barbados, the symptoms of burnout are more severe. Here's what they can look like.
Symptoms of burnout
The tricky thing about burnout is it creeps up on you gradually. Finding it harder to fall asleep? Occasional headaches? Changes in appetite? All part of modern life, right? Wrong. And ignoring those symptoms can lead to an overbearing sense of failure, self-doubt lack of motivation and dancing with the possibilities of life. It becomes impossible to switch off, a busy mind is like a broken computer. Which is why we tend to fall apart. The effects of burnout spill out into every area of life. From our careers, relationships to crippling our sense of self. Do you feel like you could be experiencing burnout? Good news! There are some easy ways to start feeling better. And it all starts with slowing down.   
The slow secret 
The mind might be telling you to keep pushing, ignore the noise. The secret to restoring wellbeing is the art of slowing down. Hyper ambitious time management depletes your sense of self, the magic place from which you work and create. Cultivating a stiller mind is vital to whole-hearted living. How do you do that? By slowing down and nurturing your mind, body and spirit. Here are some beautifully simple ways to bounce back from burnout.
Nature is the gift that keeps on giving, allow yourself at least an hour a day to connect with the world. Take an early morning walk or treat yourself to some fresh flowers or house plants. Nature pulls us out of our heads and into the moment, it gives us permission to just be. Time away from your screen is the key to accessing our higher mind and preparing you for the great day you woke up for. 
Sleep is the first thing to suffer when are under stress, which can deplete your vitamin levels. Studies show low levels of vitamin C can cause you to wake up more frequently.  If you find it tricky to get enough vitamin C in your diet, our Puro vitamin C supplement provides you with 125g, an easy way to top up. Magnesium will also help access more restful sleep. It produces melatonin, which encourages relaxation. Take our Puro Magnesium supplement daily for a natural way to restore your sleep.
Vitamin C
Wholefood fruit-sourced vitamin C to supercharge your immune system - from nourishing acerola cherry & superfoods.
Learn More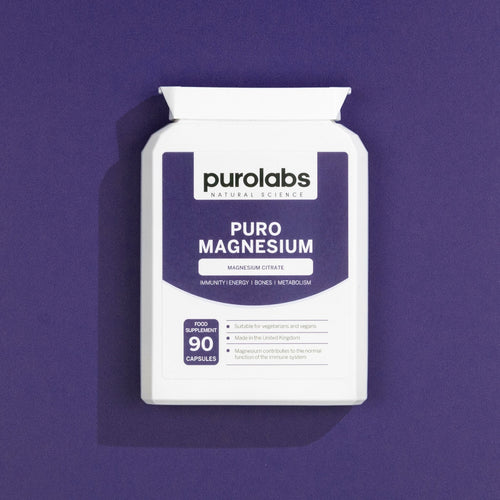 Magnesium
Support energy, sleep, mood, metabolism & nervous system with our magnesium citrate formula.
Learn More
Burnout invades the immune system, when you are tired, stressed and run- down fending of colds and infections is twice as hard. A strong immune system is the best investment. Eat plenty of natural, plant-based foods, think fresh veggies and delicious fruits. To top up, supplements with vitamin C, B6 and E are a super natural boost for your immunity.
Above all else, always be kind to yourself. Celebrate every win, however small. Say nice things to yourself in the mirror, eat delicious foods, do the things that make you happy. That is what life is all about, and perhaps if any good is to come from burnout - it's being reminded that joy, kindness and wellbeing is the stuff that really matters.
Next time you feel yourself slipping down the toxic slide of burnout, remember- rest and joy are at the heart of true success. If burnout teaches anything, it is pressing pause is as vital as meeting deadlines. As you head back into your day go a little slower, and see what happens. There is magic in the stillness, all it takes is a little trust.