The seasons have changed. As the leaves are turning brown and back to school is in full swing, we all know what that means. The holiday season is fast approaching... 
Supplements are a fantastic seasonal gift to give your loved ones as it helps them to start their new year goals with a thoughtful health boost. Take the guesswork out of supplement gifts for the holiday season by browsing our top choices below:
A Gift for the Skin-Obsessed
When it comes to skin, we commonly think about topical products to help tackle anti-ageing and add bounce and life to the skin. Taking a skin-boosting supplement helps to penetrate those deeper layers of the skin rather than tackle the superficial top layer. Our collagen complex helps to support the formation of new skin cells and helps with the production of skin at a cellular level1.
What makes our collagen complex unique is the addition of aloe vera and hyaluronic acid, which further help to soothe and add hydration to dull tired skin. This supplement is a must-have for anyone looking boost their complexion from the inside out.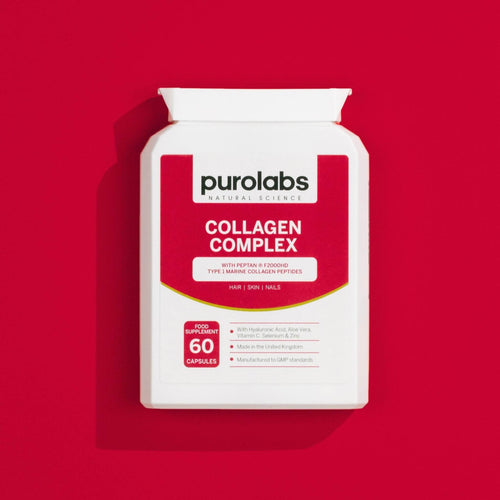 Collagen Complex
Clinically-backed hydrolysed collagen peptides for healthier skin with a glow-from-within.
Learn More
Boost Their Wellbeing
Chronic low mood can impact the quality of daily life and impact our productivity, outlook and relationship to ourselves and others, with the winter months playing a key role in the population's wellbeing levels. Whilst improving mood requires a comprehensive lifestyle approach, supplements can play an essential role in helping to provide the body and brain with a nutrient kick-start.
Ashwagandha is an adaptogenic herb, which means that it's commonly seen as a herbal pharmaceutical. Don't let the idea that this supplement is a herb fool you.
Ashwagandha has been used in ayurvedic medicine for centuries and can help boost fertility, athletic performance and even reduce inflammation. Adaptogens work on receptors in the brain and central nervous system to help counteract the effects of stress on the body. Studies show that ashwagandha may help reduce stress and regulate cortisol levels, helping to alleviate irritability2.
Help Them Fight Fatigue 
Post seasonal blues following an indulgent and socially heightened festive period can lead to fatigue as the new year approaches. A supplement which helps tackle fatigue can help a loved one start their resolutions with vigour and optimism and let's face it, who doesn't need a little of that in January.
Our B complex is incredibly potent and is designed to tackle the common symptoms of fatigue. B vitamins are needed for the energy production of every single cell in our body and low B vitamin intake can result in chronic fatigue3. Our b complex is the perfect gift for someone who suffers with low energy and needs that little boost, at any time of the year.
Strengthen Their Immune System 
Vitamin D is one of the most researched and recommended supplements here in the UK with the government recommending that we all supplement with this essential nutrient4. Gifting a loved one with vitamin D not only saves them having to spend on this supplement to top their stores, it also says "I care about your risk of vitamin D deficiency" and what's more loving than that. 
Our vitamin D supplement also contains K2. This is an essential nutrient to look out for when purchasing vitamin D as K2 is required to help the nutrient reach our tissues to carry out its beneficial role on our body5.
What we all wouldn't do for peaceful deep sleep. Gifting your loved one with a restful night's sleep is a great way to show you care, and magnesium is the mineral of all minerals to help you do just that.
One of magnesium's main roles on human health is that it helps to regulate the nervous system, which in turn promotes better sleep quality. This amazing mineral helps to increase a sleep-promoting hormone called melatonin and helps to regulate neurotransmitter signals in our central nervous system. Magnesium is a great gift idea for a loved one in your life who suffers from disrupted sleep. It could be a game-changer for their health giving you much deserved brownie points.