Due to popular demand, we are back with your nutrition questions answered – part two. Thank you to those who submitted their questions. Whilst unfortunately we could not answer them all, I have chosen questions which highlighted the most frequently asked questions.
If you do have a health-related question and you would like a little advice to help you navigate the confusing world of health and wellbeing, then do contact our customer care team who will be happy to help.
What is the best time to take supplements in general? At the same time? Or does it depend on the supplement? And can I take all supplements at the same time?
Great question, and a commonly asked one, for good reason. We, nutritionists, have a popular saying which perfectly answers this question…
It isn't what you ingest, it's how you absorb what you're ingesting which makes all the difference.
Supplement administration depends on a number of factors. Are you also taking medication and which type of medication? How many supplements and for what reason are you taking said supplements? What symptoms are you trying to support with your supplement regime?
Whilst I cannot answer this in an article as it depends on the individual, I can provide a broad answer which can cover most bases. As a general rule of thumb, fat soluble nutrients should be taken with food and water-soluble nutrients should be taken without. Minerals and probiotics are best absorbed on an empty stomach. If, for example you are taking magnesium for poor sleep, then taking this one hour before bed is ideal. If you are taking medication, always check with your GP as supplements can hinder absorption, but if you are given the go-ahead then do take supplements at least three hours apart from medication. Most supplements can be taken together; however, minerals are best taken apart.
How do you prevent acid reflux?
A tip which will help manage the symptoms of acid reflux is to improve your digestive function. Acid reflux can be caused by gases released from food fermentation in the gut which travel up the oesophagus and lead to the symptoms associated with acid reflux. Improving your digestive capacity will allow food to be more effectively broken down in the gut and travel through the digestive tract without stalling in the stomach and fermenting.
Here are a few tips to help improve your digestion and overall gut health to improve the symptoms of acid reflux:
Chew your food thoroughly. Chewing begins the digestive process as digestion starts in your mouth. Mindfully chewing each mouthful will give your gut a helping hand to continue breaking down and absorbing food once it reaches the stomach. A simple tip but more effective than you realise.
Try to limit water intake with your meals. The stomach needs to be acidic for optimal digestion, water is alkalising.
Eat bitter foods. Rocket, kale, turmeric, asparagus, watercress are foods which help stimulate digestion.
Prokinetic foods help food to move efficiently through the digestive tract. Ginger is a great option to incorporate into your daily diet.
Try to limit snacking throughout the day. You want to ensure that your meal is fully digested before you eat your next meal. Three to four hours in between meals is ideal.
Taking a probiotic will help support the pH levels in your digestive tract which will again support digestion.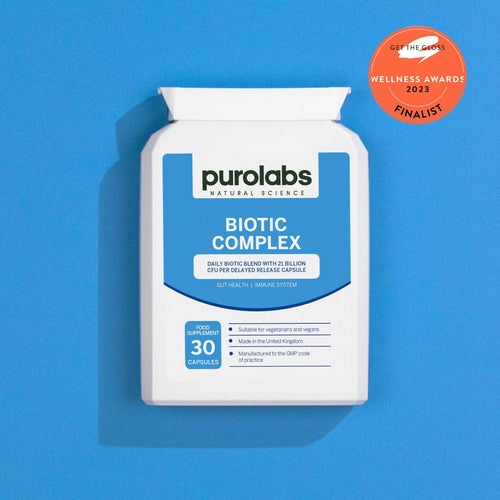 Biotic Complex
A daily boost of friendly bacteria to support a healthy gut microbiome - the key to digestive health, immunity and daily wellbeing.
Learn More
What do you recommend for stomach pain?
It really depends on what is causing the stomach pain. Do you experience this after a meal or upon waking up? Is it consistent or intermittent? Where in your stomach is the pain and does it accompany bloating, or is it more prominent when you are pre-menstrual?
It helps to keep notes regarding when your stomach pain starts and what you've eaten or how stressed you may be feeling or where in your cycle you are. Stomach pain can have many causes with many solutions, however, trying to work out the triggers will help you know how to start tackling it.
A food diary may help you to track which foods may be triggers for stomach pain if the pain is triggered by food intolerance. A great supplement for abdominal pain caused by impaired digestive function which accompanies bloating and/or constipation is a probiotic.
If the stomach pain increases just before and during menstruation, then magnesium can help soothe cervical muscle contractions that exacerbate symptoms. 
Do prostate supplements shrink the prostate?
Whilst supplements alone cannot shrink the size of the prostate, they can certainly help to mitigate the symptoms that are associated with an enlarged prostate which does occur naturally as men age.
Inflammation can aggravate the prostate and cause added pressure and irritation which can cause discomfort and pain. I recommend antioxidant supplements to tackle the irritation and potentially reduce swelling of the prostate. Turmeric, CoQ10 and Vitamin C are potent anti-inflammatory antioxidant supplements to incorporate into your supplement routine.
Chronically low zinc levels have also been linked to Benign prostatic hyperplasia; therefore, I highly recommend supplementing with zinc to support an enlarged prostate. 
After having a Gastric Bypass a few years ago, I find that my hair quality is poor. What are your recommendations?
We received a few questions regarding circumstances which have affected gastrointestinal function such as surgeries or infections and their impact on hair quality.
Optimal absorption of diet and supplements are supported by healthy digestive function. If absorption in the digestive tract is impacted, then any nutrients ingested, whether they are supplements or foods will not be absorbed effectively.
I strongly suggest functional stool testing, to pinpoint how the gut is affected in order to be able to heal it to help with nutrient absorption. Hair in particular requires various nutrients including protein, zinc, and biotin in order to remain healthy and strong. Healing the gut allows for these nutrients to do their job effectively along with helping to improve all areas of your health.
As the gut is impacted, localised treatment may be beneficial for the hair to benefit. Consider purchasing an organic rosemary hair oil (with biotin if possible) and apply directly to the scalp to help stimulate hair growth.