Supplements are a fantastic addition to a balanced diet and lifestyle and can really give you that boost you need to reach your health goals.
Typically, what we require changes a little throughout the seasons, as climate and pace of life varies. With that in mind, read on to find out what my favourite supplements are this summer, along with a couple of summer-friendly nutrition and lifestyle tips…
Summer favourite skin supplements
My absolute favourite all-rounder skin supplement is collagen complex. Starting from our mid-twenties, we naturally begin to start losing collagen stores in the skin. What's problematic about this is collagen is vital to help support our skin's structure and help our skin to maintain its bouncy, youthful appearance. Opting for a collagen supplement helps to replace the collagen we lose as we age.
As collagen is a rather large molecule, it is important to opt for a hydrolysed form (aka broken down) to allow the gut to fully digest it. This process allows for more collagen to be absorbed from the supplement, meaning it can do a better job at reaching your skin cells and giving them the youthful support they need.
This supplement also contains selenium and zinc which are two vital skin nutrients, along with hyaluronic acid…the holy grail of skin hydration. This supplement truly suits all skin types and can benefit anyone looking to maintain a healthy complexion.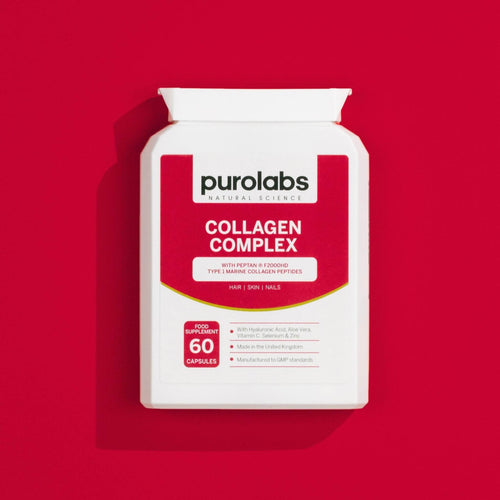 Collagen Complex
Clinically-backed hydrolysed collagen peptides for healthier skin with a glow-from-within.
Learn More
Another fantastic supplement that benefits and boosts all skin types is Apple Cider Vinegar. A common complaint I see in clinic with patients who have skin concerns is impaired digestion, whether that be bloating, constipation, chronic post-meal fullness (to name a few). If the foods we're digesting aren't being fully broken down and absorbed, they will not reach our skin and lead to the many benefits a nutrient dense diet has on our skin.
Apple cider vinegar helps the gut to break down foods more effectively, meaning they can also be absorbed better. An oh so important phrase we coin in the nutrition world is, "we aren't what we eat. We are what we absorb". Apple cider vinegar helps us to do just that.
Women's health 
Whatever life stage you may be in, balanced hormones are the goal. If you suffer from imbalanced hormones, then you understand the impact this has on day-to-day functioning from appearance, to wellbeing, dysregulated menstruation, and fatigue.
A general tip to help balance hormones is to ensure that you are having regular bowel movements as excess hormones are excreted via our stool. Purolabs Biotic Complex provides 21 billion CFU of beneficial bacteria per serving to help tackle common digestive complaints like bloating and constipation. If you aren't passing stool regularly, excess hormones will head back into bodily circulation and cause further imbalances, so this supplement is great for symptoms associated with hormonal dominance.
Menopause Complex contains a perfectly balanced formula of herbs, nutrients, minerals, and botanicals to help reduce associated symptoms and naturally support the hormonal fluctuations that occur during this significant life stage.
Men's health
Healthy testosterone levels help to support mood, energy, vitality and libido for both men and women, although men require this in much larger amounts. Vitamin D is an essential nutrient, which helps to build and support testosterone levels and is vital for healthy male hormonal production. Purolab's Vitamin D supplement contains a potent dose with the addition of K2 which optimises absorption and is commonly missed with other vitamin D supplementation.
Another essential nutrient to add to a man's supplement kit is zinc. Zinc really is a powerhouse fertility provider and if you're not looking to create little ones, please don't let its sperm-boosting benefits put you off. Zinc also has incredible antioxidant properties which helps to increase vitality and energy and helps to promote healthy male hormone levels.
A few summer-inspired health tips…
A very basic but very vital tip is to ensure that you are adequately hydrated. The summer months tend to be warmer, almost stifling at times! with dehydration occurring frequently. This can impact energy levels, skin health, gut issues, appetite and almost every chemical function in the body. During warmer months, aim for two litres water daily minimum.
Eating seasonally is cheaper, more nutrient dense and gives you environmental brownie points. Produce at this time of the year is typically higher in antioxidants, designed to protect skin from UV radiation (nature is ever so clever!). Stoned fruits such as peaches and nectarines are at their best this season, along with berries, avocado, and mushrooms; all known for their immune and skin-boosting benefits.
The warmer months are optimal for taking movement and social activities outside. Many studies have linked the cognitive benefits of being in nature and connecting socially and physically within nature, further enhances those wellbeing perks.