Not only are there countless health benefits to incorporating a high-quality multivitamin into your daily routine, but it is also one of the quickest and easiest ways to ensure your body is getting all the key minerals and nutrients it needs to function. Think of a multivitamin as an insurance policy for your overall health.
Quick & Convenient
Multivitamin tablets are also ideal for those with busy lifestyles or anybody who would struggle taking multiple tablets per day. It's far more convenient to take everything together - just one capsule with water or food and you're good to go.
Targets Smaller Deficiencies
Supplements aren't always used for severe deficiencies, multivitamins are actually effective in treating smaller deficiencies when individuals are slightly lacking in important macronutrients.
Multivitamins act as a great short-term solution, to avoid deficiencies worsening and creating greater health problems in the long term.
Reduce Likelihood of Illness Long-Term
When an individual lacks in key minerals and nutrients and this is not addressed, this does make them more susceptible to health complaints & long term issues.
By incorporating a multivitamin into your routine, you can rest assured that you are topping up those key nutrients which may be missed through diet and lifestyle. They also support a normal immune system - which is key for combatting disease and infection.
Very Low Risk of Side Effects
There is very little risk of over-consumption of any nutrients or any related side-effects when using multivitamins. As long as the recommended dosage is adhered to and you don't exceed this, you are very unlikely to experience any side effects.
Suitable for Everyone
There are some specific groups who are more likely to be lacking in key nutrients, meaning they are even more likely to benefit from using a multivitamin. These can include:
Pregnant or breastfeeding women

Women who are trying to conceive

Older individuals who experience reduced absorption

Adolescents

Those with absorption issues - which can be caused by excess alcohol consumption, weight loss surgery or specific medications

Those with an unbalanced diet lacking in key vitamins and macronutrients

Vegans or vegetarians
Your Daily Insurance Policy
Our very own Puro Multivitamin has been designed to fill any nutritional gaps and address any deficiencies and imbalances - even ones that other multivitamins do not cater for. This is why our multivitamin formula includes Co-Enzyme Q10, Lutein, Manganese, Inositol and Boron. This multivitamin doesn't cut corners - we've thought of everything when developing this versatile product!
Each of the 34 ingredients within Puro Multivitamin is of the highest-quality and in the most effectively absorbed form to ensure maximum benefit for everyone.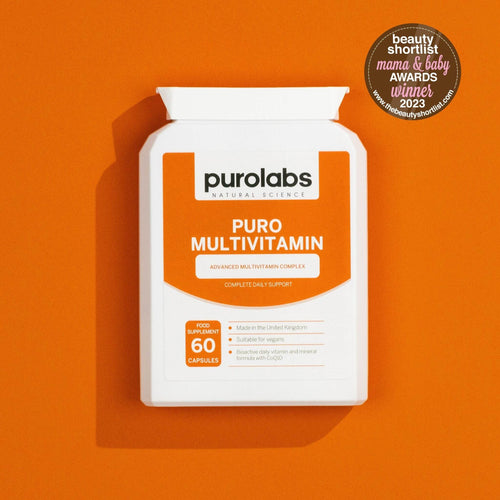 Multivitamin
Support optimal daily health & fill nutritional gaps with our vegan multivitamin complex for men & women of all ages.
Learn More