Whether you are struggling with the monthly symptoms of PMS or you're going through the menopause, there is no doubt that hormonal health can play a huge part in the overall wellbeing of women across the globe. 
Hormones play an important role in regulating many important processes in the body so when these hormones are imbalanced, various symptoms can arise. In some cases, the physical and psychological symptoms of these hormonal fluctuations can be debilitating. 
Even when symptoms are severe, many women struggle to find a specific treatment that works for them and prescription medicines often come with high-risks or side effects. That is why we have developed two best-selling products which can help alleviate these symptoms and provide relief for women who have exhausted all other avenues. 
It's all about getting back to the best version of yourself, the natural way!
With hundreds of 5 star reviews, this supplement is an advanced complex which helps to support hormonal health and sustain healthy bones. With no fillers or nasties, each hand-picked ingredient within Puro Meno Complex has been selected for it's genuine benefit in alleviating the symptoms of menopause.
This highly-potent blend includes Vitamin B6 for hormonal regulation, as well as Zinc & Magnesium to promote healthy mood and bones. The complex also includes Vitamin D, Alfafa, Calcium, Sage, Soy Isoflavones, Kelp, Rosemary Leaf and Ginseng.
This natural food supplement can be used in conjunction with HRT, as it contains no hormones or drugs but always consult your GP before you begin taking Puro Meno Complex alongside any prescription medication.
What our customers say about Puro Meno Complex
"Having tried other products that haven't suited me , I read the reviews online about Purolabs Meno Complex. I have been taking the recommended dose now for around 2 months and they have completely eliminated all the symptoms that I was experiencing and would highly recommend it to any ladies out there in need of a bit of help."
Menopause Complex
4.6
Stars
(1,026 Reviews)
Natural menopause relief, without side effects.
Learn More
Puro Hormonal Balance contains a bespoke blend of minerals, vitamins and botanicals that aim to regulate hormonal activity and alleviate the symptoms of hormonal imbalance. Similar to the Meno Complex, this supplement contains Vitamin B6 for hormone regulation and also magnesium to restore electrolyte balance. These ingredients also help to sustain energy levels and combat premenstrual fatigue. This bespoke formula also contains a superfood blend of Ginger, Celery, Montmorency Cherry, Sea Kelp, Parsley, Watercress and Chromium, to help you feel your best.
Each capsule is 100% vegan-friendly and as with the Puro Meno Complex, we would recommend consulting a GP before taking alongside any prescription medicines. It is not recommended for pregnant or breastfeeding women.
What our customers say about Puro Hormonal Balance
"I started taking this as I was suffering from dreadful flushes, lack of energy and insomnia. I honestly can't believe the difference, a few weeks in and my flushes have vanished! I have loads more energy, and my sleep is starting to improve! I also take the Purolabs multivitamin which I also think is brilliant. If you struggle with hormones give this a go, I highly recommend it, I feel like I've got my life back."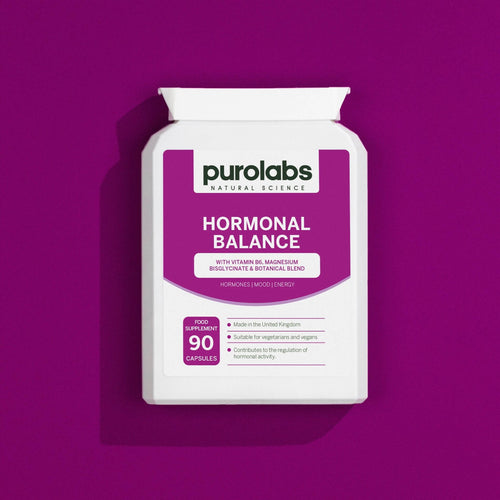 Hormonal Balance
Mood swings? Acne? Cramps? No thanks. Get back to your best self with our science-backed formula for PMS & hormonal balance.
Learn More
Lifestyle
Alongside investing in our Puro Meno Complex or Puro Hormonal Balance, making positive lifestyle changes can be hugely beneficial in alleviating the physical and psychological symptoms of hormonal imbalance. 
Exercise:

Upping your physical activity is a great way to generate endorphins and improve mental wellbeing. It also encourages the endocrine system to produce hormones, which in turn can help to restore balance.
Meditation:

The benefits of practising meditation include stress & anxiety reduction, mental clarity and improved sleep.
Diet:

A diet rich in protein, healthy fats, fruits and grains is key to nourish the body and keep you energised all day. Sugar, caffeine and alcohol intake should be reduced as they can worsen symptoms such as anxiety or hot flashes.
Sleep:
High-quality sleep is important to avoid feelings of fatigue, irritability and depleted energy levels. A bedtime routine can be extremely beneficial in improving sleep, as well as practising meditation as mentioned earlier.
By coupling these positive changes with Purolabs products, you can really restore your natural balance and be the best version of yourself. No need for harsh medications or side effects, just high-quality, natural supplements that make a real difference and change lives for women who have struggled with their hormones for years!