In celebration of International Women's Day, we wanted to give you some helpful tips and advice on supplements for each stage of your life.

Supplements are important and should be tailored to each person's individual needs - they can act as a preventative buffer against health issues, and help restore health.

To those of you in your twenties, sorry - us 30-somethings and up need a little more help!

But remember, nothing beats a healthy balanced diet and lifestyle - supplements can be the "cherry on top" when it comes to your health.

Let's take a look at some suggested supplements depending on your life stage...
Supplements For Your 30s
When I think about our thirties, I think it's the perfect time to start taking preventive supplements. Let's talk about collagen for instance. Not only is it great for beauty treatments, like giving our skin and hair bounce, fullness, and elasticity, but it's also a crucial structural element for our bones, ligaments, and cartilage1
Treating yourself to some collagen supplements for your 30th birthday is a great way to give a present to your future self. As you know, collagen starts to decline after our 30s2
If you're looking for a collagen supplement that really packs a punch, then you've got to try Purolabs! We've added two of nature's best skincare ingredients, aloe vera and hyaluronic acid, to our supplement. Hyaluronic acid is the holy grail of moisture, and it works with collagen to keep your joints and skin hydrated and healthy3. You won't find many other collagen supplements that contain this added bonus, so it's definitely worth checking out!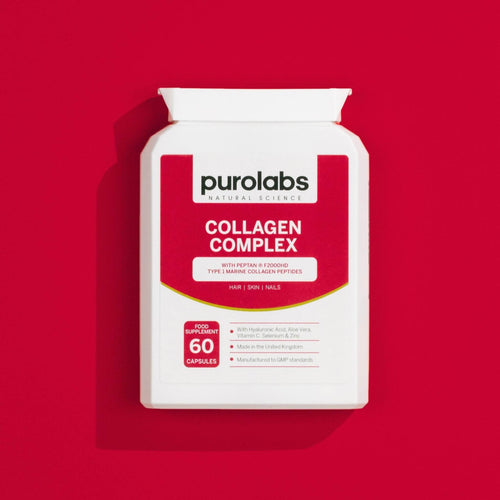 Collagen Complex
Clinically-backed hydrolysed collagen peptides for healthier skin with a glow-from-within.
Learn More
According to the Office for National Statistics, almost half of women by the age of 30 are childless, compared to only 1 in 5 in their parents' generation4. This is likely due to increased career and educational opportunities.
Regardless of whether or not you plan to conceive, having a healthy reproductive system in your 30s is important.
Folate is an important supplement for reproductive health - it not only helps to reduce foetal neural tube defects, but it also helps our bodies to produce and maintain new cells and support our DNA structures5.
Taking Vitamin D has been shown to help with improving fertility in those with polycystic ovarian syndrome. It's also a great antioxidant and can help improve your overall metabolic function 6.
Selenium is an incredible antioxidant that helps protect our bodies from oxidative damage and is necessary for a healthy thyroid7.  
Multivitamin is also a great option to help you get the nutrients your body needs. A good quality multivitamin like ours at Purolabs ensures you receive the nutrients you need to help boost your fertility and general health. It contains the recommended daily intake of all the nutrients mentioned here as well as additional antioxidants like Bilberry and CoQ10.
It's important to note that any supplements taken this decade can be beneficial for the next few decades, too. We know that collagen production decreases with age, and antioxidants are always a great way to stay healthy, regardless of age. To get the best benefits, it's best to keep your supplement routine consistent throughout your life.
Supplements For Your 40s
As you start to enter your mid-forties, you may start to notice some signs of perimenopause. Now is the ideal time to consider supplementing your diet with hormone-balancing and supportive supplements8.
Probiotics can be an incredibly useful supplement for men and women at any stage of life, but a lot of people don't think to use them for menopausal symptoms. Beneficial bacteria in the gut help metabolize oestrogen9, so a probiotic can help prevent a sudden decrease in oestrogen levels when you enter perimenopause. Oestrogen naturally declines during this stage, but taking a probiotic may help to lessen the intensity of menopause symptoms.
Our Meno Complex at Purolabs is specially formulated to help with all the common symptoms of menopause like sleep disturbances, night sweats, mood imbalances, and fatigue. It contains 14 different nutrients to make sure you get the best results. Not to mention the great reviews it's been getting! No matter what stage of menopause you're in, this is the supplement I highly recommend.
It's important to keep an eye on your bone health during this decade, as both men and women may build less new bone than in the past. A great way to prevent any issues is to supplement with Vitamin D and Vitamin K, as this can help promote strong bones. Additionally, adding calcium to your diet is a great way to reduce the risk of conditions like osteoporosis, osteoarthritis, and autoimmune conditions10 which are more common in women during this stage of life.
Although we know that osteoporosis is a big risk factor during menopause, you may also want to consider supplementing with Vitamin D to help support your immune system and reduce the risk of any autoimmune conditions like rheumatoid arthritis.
Supplements For Your 50s
As women reach their late 50's, studies show that their oestrogen levels decrease, making them more susceptible to heart conditions. To help protect your heart, it is strongly recommended that you take heart healthy supplements. Oestrogen has been found to have protective effects on the heart, so supplementing your diet with oestrogen can be beneficial for your health.
If you're looking to give your heart a little extra love, adding Omega 3 to your diet can be a great place to start! Its anti-inflammatory properties and ability to mop up free radicals in the bloodstream make it a powerful supplement for cardiovascular health11. Omega 3 can help promote healthy heart contractions, so your cardiovascular system can keep running smoothly.
Magnesium is a great way to keep your bones healthy during your 50s and beyond. This amazing mineral helps to keep your bones strong and dense, while also supporting your nervous system and improving your mood, fatigue, and hormone levels. Even if you're not yet in your 50s, magnesium is still a fantastic choice - it can benefit men and women of all ages!
Don't Underestimate Your Diet
Tailoring your supplements to your life stage is important, but don't forget to consider your symptoms and health goals too. For example, if you're experiencing fatigue, no matter what age you are, you might want to consider taking a magnesium supplement.
It's also important to think about any medications you're taking to make sure the supplements won't conflict with them. Just like you make sure your clothes fit you as your waistline changes, make sure your supplements fit you too!
Remember, supplements can be a great addition to your lifestyle and diet, but they can't replace other healthy habits. Eating more fruits and vegetables, getting regular physical activity, and making sure you're getting enough sleep are all essential for your overall health.