Dry, dehydrated skin is a common complaint in winter months and a number of factors associated with colder weather can contribute to this. Dryness is generally caused by a lack of moisture in the skin and this is more common in the winter time, due to low humidity and exposure to wind.
Moisture within the skin is further reduced by exposure to direct, hot air which can include car heaters or heating within the home. The combination of these external factors can significantly decrease the moisture within your skin and lead to dryness and irritation during this time of year. 
Mature skin is also more susceptible to dryness meaning that you may experience worsening dry skin in winter as you get older. But don't worry - there are multiple steps you can take to replenish that lost moisture and keep your skin nourished and healthy.
Alongside the obvious steps such as increasing your water intake and moisturising regularly, incorporating high-quality beauty supplements into your routine means you can nourish your skin from the inside out and give your skin the best possible defence against harsh temperatures. 
Puro Collagen Complex is our advanced beauty formula that has been designed to boost skin moisture, improve elasticity and give you that plump, glowing complexion even in the colder months.
Created with hydrolysed collagen peptide, our bespoke formula contains premium Peptan® type 1. These wild caught, marine collagen peptides are not only sustainably sourced from whitefish but they are also certified by the Marine Stewardship Council.
The hydrolysed marine collagen within our complex is made up of smaller peptides, making it super-bioavailable for easy absorption and maximum benefit for our customers.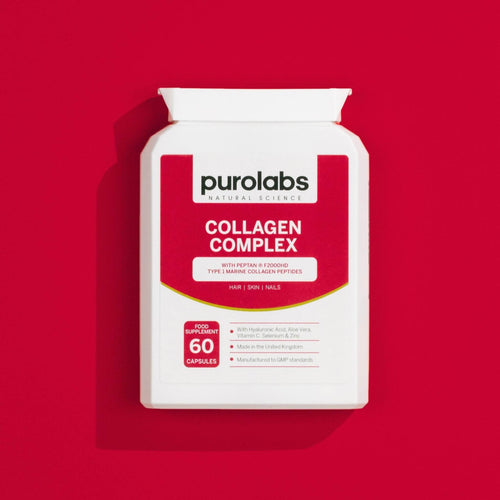 Collagen Complex
Clinically-backed hydrolysed collagen peptides for healthier skin with a glow-from-within.
Learn More
Our Puro Biotin+ is a high-strength biotin supplement that has been carefully designed by leading dermatologists to support and nourish the skin. Biotin is a water-soluble B Vitamin and it is widely used for it's skin hydrating benefits.
Biotin promotes a healthy complexion by assisting the formation of fatty acids, which nourish the skin and maintain that glow even in winter when skin can appear dull and dry. Biotin tablets are also great for healthy hair and nails, with many customers reaching for Puro Biotin+ as their go-to hair, skin and nail vitamins.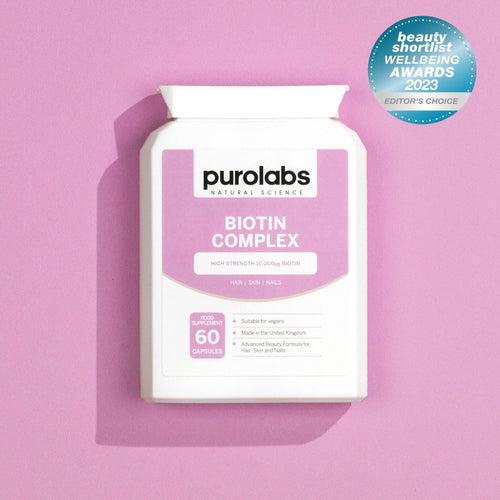 Biotin Complex
Nourish hair, skin & nails from the inside out with the biotin beauty complex that'll have you turning heads.
Learn More
Puro Selenium
Our high-strength Puro Selenium formula is created from a key mineral which promotes a healthy immune system, as well as supporting healthy skin. By fighting free radicals, Selenium minimises any skin damage or inflammation, from cold weather or other causes.
As well as protecting from year-round UV skin damage, Selenium can also boost glutathione which promotes healthy skin healing for an overall improved complexion. Combining this key beauty supplement with Puro Collagen Complex and our Puro Biotin+ will ensure nourished, hydrated skin all year round.